Google places is a great way for a senior living community to get free exposure on Google. If you're not familiar with what Google places is, they're the listings with the raindrop icon next to them when you do a local search.
Google allows users to leave a review, and the number of reviews gets displayed beside the listing. The more reviews your community has, the higher the number displayed, and the higher the chances a potential new resident or adult child will see the listing.
Here's a story of how powerful a highly reviewed Google places listing can be.
I recently visited my sister in Brooklyn NY who lives in the trendy Williamsburg area. We spent a Saturday exploring new areas outside of Williamsburg, and ended up in an unfamiliar area. It was late and we were getting hungry, so we wanted to find a new restaurant.
I did a search on my phone for restaurants near by.
Below is a screenshot of the search results for "restaurants in Brooklyn". Notice the restaurant with 1,870 reviews and a Zagat score (restaurant review site) of 26/30.
Can you guess which restaurant we went to? The amount of positive reviews separated it from everyone else on the page. It did not matter if this listing was the last one on the page either. What I was looking at was the reviews from honest people.

Getting raving reviews for your senior living or senior care company on your free Google local profile is a great way to attract prospects while they're searching. Imagine standing out from your competitors with two to three or even ten times as many reviews. Do you think that would attract scanning eyeballs? I do.
In a poll of 2,012 online consumers 55% of local consumers are more likely to use a business with positive reviews, and 67% of people trust online reviews as much as a personal recommendation. This is why you can attract extra visitors to your senior living website without having to worry about a boost in your search rankings. (Although that helps too)
Big doors swing on tiny hinges with reviews. These reviews are permanent, so the little bit of extra effort you can apply each month to getting a review online carries over for years to come. Below I give 5 ways you can start using today to get reviews from your residents at your senior living community.
5 Proven and Tested Ways To Get Raving Reviews On Your Senior Living Google Places Page

1. Send an email to happy residents and their adult children

If you know you have happy residents, then you want these people's voices to be heard. Tell them how you recently updated your Google Places listing and ask if they would review the community. Explain to them how it will be used and that it will appear on your listing in the search engines. Most people will respond favorably to your request and in no time you'll be getting quite a bit of reviews.
If you are sending the request to a happy adult child it is always best to do it in person if you can, but if not, below is the exact email template I give my customers to get reviews from past and new customers.)
Email Template for Getting Senior Living Customer Reviews:

Dear [Name],
Thank you for your business. I'm glad we were able to provide you with [insert product or service]. If there's ever anything else I can do please don't hesitate to give me a call.
Also, I was wondering if you'd be so kind to leave us a quick review of our business on Google. Your review would help me connect with other people that we may possibly help.
All you have to do is click the link below, then click on the write a review button, and leave an honest review of the work we've done for you.
[insert link to Google Places]
Again, thank you [Name] for all your support and I'm glad we were able to provide a high level of service for you.
Thank You,
[Insert Your Name]


2. Ask for a review right when a new resident or customer comes on board.

Most of the time when a new resident comes on board, everyone is in a good mood. Hopefully them or their child does not have buyers remorse. To overcome that you should be giving them a welcome package reaffirming their good decision. (But that's a subject for a different post)
Right when they decide to become a resident is a perfect time to ask for a review. They're happy with their decision…excited…maybe even a little anxious. Ask them if they would be willing to leave a review of the community to capture the moment for them. Again asking them in person is best, but the email template above can easily be customized for the situation.
3. Include a call to action and link to your Google Places account in your email signature.

Your email signature is a perfect way to gain reviews. In fact, the entire staff that deals with residents and prospects should include a request to leave a review in their email signature.
It can be a simple call to action like, leave a review for us on Google. or you can be a little more elaborate and provide an incentive.
If you're happy with our community would you please help us spread the word by leaving at review at [Insert Your Google Place Address]. For your review we are happy to provide you with [insert incentive]
4. create gmail accounts and go around to residents asking for a review

Anyone who leaves a review will need a gmail account. Most likely, the majority of seniors do not have a gmail account. You may have to create an account for residents and customers and have them leave a review for the community.
If you have an iPad you can carry it around to each residence and ask for a review. This involves a little work, but it is one more thing to separate you from the competition in today's environment. This is a proactive way to get many more reviews than just asking.
5. Post pictures of QR codes (barcodes you scan with your phone) at your community

Asking people to leave a review at your Google Places page, or use them in your marketing material. People can scan QR codes with their phones and it will take them to a webpage. A great place to include them is the lobby of your community, any social area, and on the hallways of your community. An example of a QR code is to the right. Scan it with your smartphone and it will take you to the SeniorMarketing.com homepage.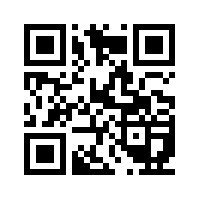 Create a QR code for free at http://www.qrstuff.com/ (this is a strategy that have more of an impact for adult children who are more tech savvy than their senior parents). QR codes still relatively new and are not getting the traction people thought they would. Nonetheless, if it can add an extra review or two a month, then it is certainly worth it.
There is certainly a number of ways to get reviews online. The most important thing is to take action. Making it a habit to spend an hour or two each month will ensure your senior living community or senior care business will gain the reviews needed to separate itself in today's competitive online environment.