According to search Engine Land, 43% of searches have a local intent on Google. This means people are using the major search engines to find local businesses and more information locally.
This is huge and the major search engines have been taking action on this recently.
Mobile searches are even higher. 50% of searches have local intent.
This is important because in senior living and senior care, everything is local. Unless you're a luxury destination CCRC, your market is mostly local.
Especially when our prospects search for us online.
The typical way someone searches in our market is "your service + your town".
Why this really matters to us, is search engines are giving away their top advertising spots to local businesses.
In the process they are revolutionizing the way people search for local businesses, and the yellow pages are suffering.
"I want to make a quick point about the yellow pages. There are many people claiming the yellow pages are dead. In some industries and markets maybe that's true.
But in our industry, you can actually see them be more effective because everyone is telling people to pull out, so where there used to be 30 competitors, there's now 15, and in our industry they're still being used by adult children and seniors.
When you do advertise in the yellow pages, it is really important to have an ad that differentiates and generates a response. This is where the power of copywriting comes in and where the words you choose can either generate 5 calls per year or 50."
These local business listings are free on Google. They're called Google places. Other major search engines offer them too.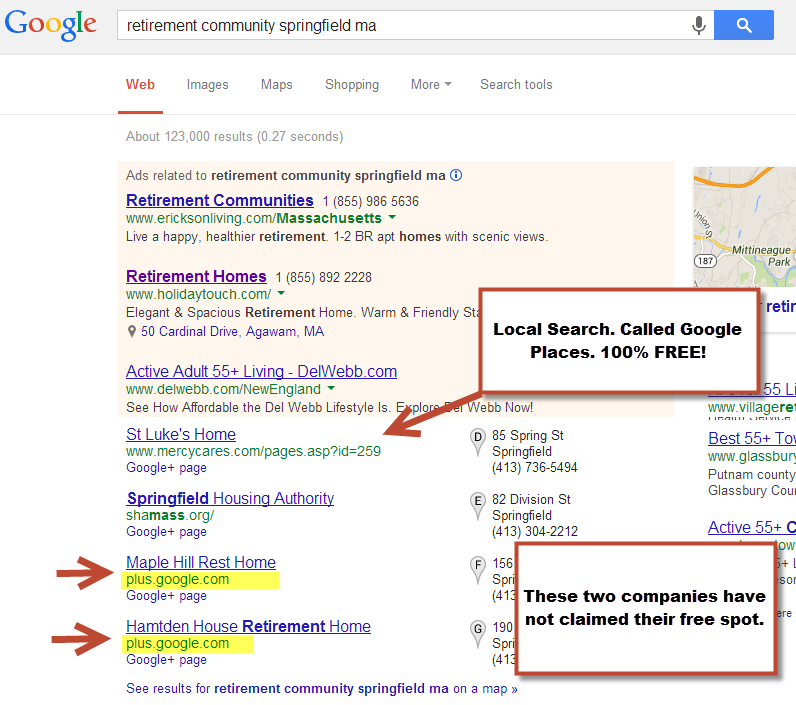 I've included a screenshot here and you can see how there is a difference between the pages that are claimed and those that are not.
The first two listings on this page are claimed. You can see the companies URL's under there. The top one has a landing page, which is designed to convert leads versus just driving people to the home page. This is very important. A homepage of a website is not designed to convert leads.
I've highlighted in yellow the pages that are not claimed. These go to the business's Google places page. So this is the free profile that Google sets up for you. You have to claim and verify your profile in order to have it display your own website.
If you claim it, you have much more control over what information is displayed, how you can influence where on the page your listing shows up, and can encourage people to leave reviews on the page.
Claiming these listings won't take more than 1 hour of your time, and could drive quite a bit of traffic to your website.