3 Ways SeniorMarketing.com Can Increase the Value of Your Senior Living Community or Home Care Agency as an Asset and Increase Cash Flow.

(click a link below to learn more)
One of the most expensive things a senior living community can have is an empty room. With an empty room, you miss out on cash flow, and the unit's fixed costs are the same whether it is occupied or not. When you factor in the capitalization rate or the valuation of the asset, it really is important to invest the necessary time and resources to get good residents into these rooms.
That needs to be a priority in today's competitive environment.
Most communities understand they can never stop marketing and promotion. That being said:
There Are Several Major Problems Affecting Senior Living Communities Today:

How to differentiate your community in a saturated environment.
Marketing budgets are running tight in today's economy and getting help is expensive.
Looming healthcare regulations cause uncertainty.
There is a boom in technology and services designed to keep seniors living in their homes longer.
Tracking a return on marketing investment is a challenge. Particularly in the Internet age.
If your community is experiencing any of these problems, then you know it is becoming more of a challenge reaching high occupancy.
3 ways SeniorMarketing.com Can Help Your Senior Living Community or Senior Care Business.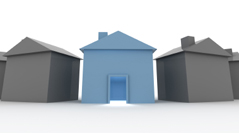 1. Increasing occupancy at your senior living community

increasing occupancy is one of the major areas we focus on. One of the most common things people think of when they think of marketing is, "how do we get more good residents? Do we host an event? Use direct mail? Rebuild our website? Reach out for Referrals? Use search marketing and social media?"
All these are viable options, but first do you know how much a resident is worth to your community?
We'll use assisted living here as an example. The average lifetime value of an assisted living customer is around $60,000 to $70,000. With a good resident being worth that much, every empty room leads to serious lost revenue. In order to increase cash flow and the value of the community it is critical to maintain as high an occupancy as possible at all times. And these residents should be coming from a range of mediums.
If Your Senior Living Community Relies on Just One or Two Methods to Acquire New Residents, Your Business Is in Jeopardy.

At SeniorMarketing.com we have a number of proven ways to increase occupancy at your communities. Direct mail, online marketing, improving yellow page ads, referrals, directories, radio, TV, etc…
We provide a number of options to ensure you diversify your marketing efforts and separate your community from the average. You are essentially getting a seasoned marketing mentor at your disposal. This allows a marketing director to remove themselves from a lot of the time consuming marketing activities so they can spend time doing what they do best.
Best of all, we track the performance of each marketing medium — with our proprietary tracking software — to ensure your community is getting the best return on investment.
This service is extremely affordable and comes with a 100% money back guarantee.
If you're looking to build your marketing strategies with guerilla marketing techniques to become a leader in your area then follow the link to learn more about increasing your senior living occupancy.


2. The second area of focus we have is increasing the value of your customers.

Using the above example, the lifetime value of an assisted living customer was worth $60,000 to $70,000. Through proper marketing, you can increase the value of those residents. Whether it's strategies to keep residents longer or cross-selling, up-selling forming partnerships and alliances, it all goes straight to the bottom line.
Here's a numerical example of increasing the value of your residents.
Let's say that through cross selling, upselling and forming alliances you're able to increse the value of your residents by $50 per month. This can have a significant impact on the valuation of the community. If this is a 250-unit assisted living community then that is an extra $150,000 per year. (250x50x12=$150,000). At a 8.9% capitalization rate the increase in value of the community is over $1.5 million. ($150,000/9.8%=$1,530,612)
This is something not many senior living communities think of but it's a huge opportunity to increase the cash flow and the valuation of the community. Signup for our newsletter on the top right and we'll give you specific examples and techniques you can use to increase the value of your residents.


3. The third area of focus is improving marketing efficiency.

We help you avoid wasting money on marketing and advertising that is not working. We do this through our advanced tracking mechanisms and really focus on return on investment. This service is extremely affordable, has a 100% money back guarantee and should more than pay for itself.
A marketing director today is bombarded by the Yellow Pages, Internet marketing companies, direct mail companies, newspapers, radio stations, and TV all trying to sell you something. As a marketing director at a senior living community it's hard to know which one of these is giving you the best return for your investment.
Our proprietary software allows you to not only measure how much it costs to acquire a new customer through each marketing medium (including referrals), but how much they are worth over their entire lifetime of being your customer. Once you have these numbers, then you can determine how to increase the value of your community without spending an extra dime!
With tight marketing budgets and today's competitive environment, my question to you is, "Can you afford not to measure your return on investment?"
Follow the link to learn specifically about our proprietary tracking software and increasing the return on your senior marketing investment.
To sum up what we do at SeniorMarketing.com

We increase occupancy through a number of proven marketing mediums
We increase the value of existing and new residents.
We cut marketing expenses through better efficiency and tracking.
Not very many communities focus on these 3 interconnected areas, which is a great opportunity for you to increase the value of your community as an asset and increase cash flow. This is really where the rubber hits the road!
(Again if you sign up for the newsletter to the right we're going to send you marketing lessons for free and invite you to webinars to teach you about new marketing strategies and products we're developing.)
We eat, sleep and breathe senior living, and it's an always-changing environment. We're always developing new things and incorporating the latest changes in the market and technology.
The Nuts and Bolts of How We Help Your Senior Living Community Increase Occupancy, Increase The Value Of Residents, and Improve Marketing Efficiency.

We work with you as frequently as possible to make sure these things actually get executed properly. We use a number of communications tools including email, webinars, and technology that allows us to share computer screens. We also have a network of printers, and direct mail facilities around the country, and a team of web designers, graphic designers, and search marketing professionals.
The next step is for you to decide whether or not you want to talk to us. If you do I'd encourage you to pick up the phone and give us a call at 888-523-3311.
Call us today and set up a Free 30-minute marketing tune-up call. 888-523-3311

We'll first send you a questionnaire that will help us determine what we think you need to reach your goals. Obviously everyone's community and budget goals are different, so after our conversation we'll determine what we think is the best fit.
On the 30-minute marketing tune-up we'll talk about:

What you have done
What you have not done
What works

What does not work
What your goals are
What it is that you need
We combine all of the above with our expertise and give you a good plan for moving forward. From there if it makes sense to do business with us – great – if not, no worries. You still get the benefit from the 30-minute marketing tune-up with a lot of good information.
I really want to thank you for coming to this website and taking the time to learn about us. I hope you found it somewhat insightful.
If you haven't already I encourage you to sign up for the newsletter. Just put your email and name in. I promise we won't spam you. We don't believe in that. We're just going to send you valuable tips, invitations to free webinars, and the latest marketing knowledge in the senior living industry.
If you want to talk to someone right away just go ahead and contact us or pick up the phone and give us a call at 888-523-3311.
We really look forward to talking with you.
Thank you,

Kevin M. Williams
President
SeniorMarketing.com
888-523-3311