"Local Search Fundamentals"


How Senior Living and Senior Care Companies Can Get A Top Local Search Business Listing To Attract New Residents and Clients.

Major search engines such as Google®, Yahoo!®, Bing® are giving away their top advertising spots to local businesses. These are spots that cost anywhere from $3-$10 per click!

There isn't a community in today's age that would be caught dead without a sign on their property to notify drive by traffic. Everybody knows site signage is crucial to success. But, how many communities and businesses are forgetting to put a good sign up on their own local search engine?
Recent advances in search engines now make it extremely easy for people searching to find something right in their backyard…including senior living and senior care. Google® and other major search engines include a local business result map on their search result pages. Listings appear on the search result pages, on maps, and mobile results. Having a top local listing in your industry with great customer reviews stands out prominently in the search results.
Here are a few interesting statistics about Local Search that every community should know:
90% of online commercial searches result in offline bricks and mortar purchases (proprietary research / comScore)
82% of local searchers follow up offline via an in-store visit, phone call or purchase (TMP / comScore)
80% of budgets are spent within 50 miles of the home (DMA / proprietary)
74% of internet users perform local searches (Kelsey Group)
73% of online activity is related to local content (Google)
66% of American use online local search, like Google local search to locate local businesses (TMP / comScore / proprietary average)
61% of local searches result in purchases (TMP / comScore)
54% of Americans have substituted the internet and local search for phone books (comScore networks)
Our local search service guarantees you first page placement against your competitors. We work to get your business top ranking listings on Google®, Yahoo!®, Bing®. We do this by focusing on the Factors that influence rankings on the local search results.
Click Below To Contact Us Today For Details And Pricing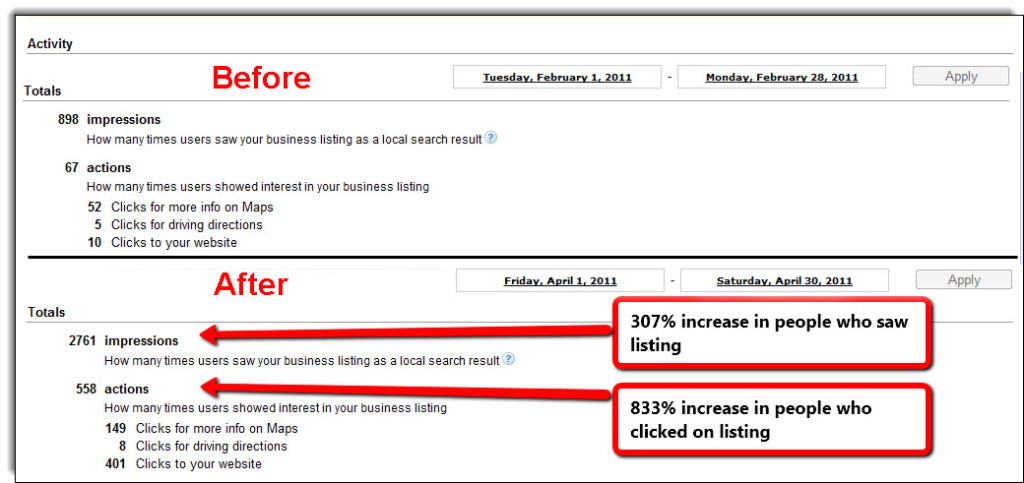 "I needed a way to not only advertise my company, but stand out from my competition. I didn't realize how powerful the search engines were for generating leads. Leads that come in every month!"
– Steven W

"In just two short months we've had 32 requests for driving directions from our Google places listing. We are now getting leads every month."
– Richard M
If you'd like to learn more about local search, read these two articles Kevin has wrote for industry publications. How to use 'local search' to attract residents and 4 Components To Get Your Community A Top Free Local Search Listing.